Crickler offers a wide variety of coffee products and coffee machines. We offer coffee condiments such as creams, sugars, paper cups, stir straws, and more. Below are many of the machines Crickler offers and because of the array of machines, one of them is certain to suit your break room or office!
Bean-to-Cup Machines
These machines brew the coffee fresh in every single cup. What happens is the machine is filled with coffee beans and then when you select the coffee you want; the machine will freshly grind those coffee beans. It is literally from coffee beans to your cup! These machines are eco-friendlier for they do not use plastic pods and there is no wasted coffee since it's single-serve. These machines can also create flavored coffee drinks with available solubles such as French vanilla, mocha, etc.
Encore 29. The encore 29 is fully programmable to guarantee a consistent taste profile. Every cup will taste the same as the last one! This tech-savvy machine has a bright, clear digital touch screen that is easy to use. On this screen are beverage settings for crafting your perfect cup of coffee. The greatest part about this coffee machine is, there are almost 100 drinks options to choose from! Between various sizes, strengths, and recipes. This machine has 100% compostable organic coffee waste and it has an energy-saving mode. The energy-saving mode reduces energy consumption without scarifying quality.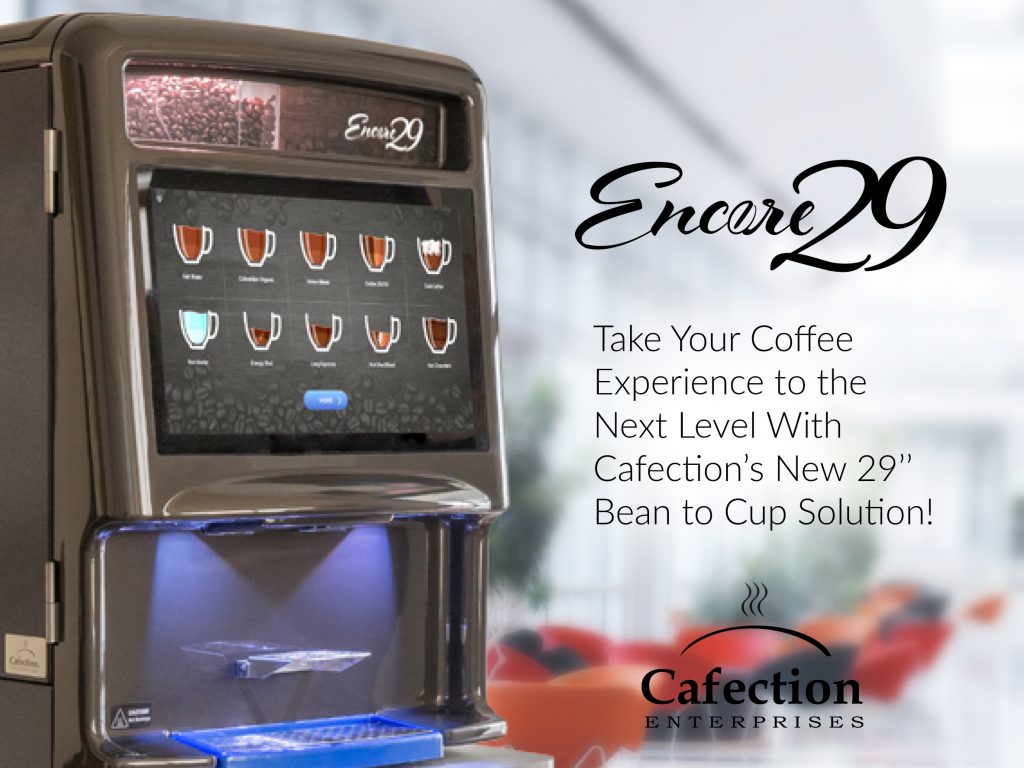 Encore Lite. This machine is like the Encore 29 but smaller and more compact. This elegant designed bean-to-cup machine comes in multiple different colors to suit your breakroom style. The Encore Lite is quieter than the Encore 29 with a noise-reducing inside panel and a smoother grinding process. This machine is easier to fill with only a 10lb capacity bean hopper and a choice of three different coffee roasts. These roasts can be flavored with the choice of two solubles: hot chocolate & French vanilla or milk.
Nio. The Nio is very similar to the Encore 29 machine. The main difference is that the Nio can be completely operated without having to open the machine. Filling, cleaning and the removal of used grounds can be done from the outside of the machine (deJONGDUKE). Nio is perfect for any mid-size company for it has a daily throughput of 150+ drinks! Drinks such as coffees, espressos, cappuccinos, hot chocolates, and specialty drinks. Options like a waste guide, drain connection and automatic cleaning make this gem ideal for your mid-size company's break room! Check out de JONG DUKE's video about the Nio (NioYouTube). https://www.youtube.com/embed/_8yWOWI3zjE?feature=oembed
Zia. The Zia can be compatible with any breakroom size for they come in size small or medium. This elegant bean-to-cup machine has different brewing systems to choose between. The brewing systems are Instant, Filterfresh® or CoEx® and they can make a perfect espresso as well as freshbrew coffee with the same brew unit (deJONGDUKE). Watch the video from de JONG DUKE to see what else this machine can do (ZiaYouTube). https://www.youtube.com/embed/wzmPTikCuJA?feature=oembed
Virtu. This machine is very similar to the Zia but is more versatile and has a customizable stainless-steel front design. This machine has excellent performance with low maintenance and comes in sizes small or medium (deJONGDUKE). Great for any breakroom size! One of the neatest designs on this machine is the glass detection. The Virtu will not brew a cup of coffee until it detects a glass/mug underneath it. No more accidentally forgetting to put your cup under the machine and creating a giant coffee spill! Watch this video to get more of an idea of what this machine looks like and how it can be compatible for your workplace (VirtuYouTube). https://www.youtube.com/embed/1hnQB61-P3E?feature=oembed
Single Serve Brewers
Crickler offers a few single-serve brewers that are perfect for wanting a single-cup serving of your favorite coffee brand. These machines have different pods filled with a variety of coffee brands that you can choose from.
The Keurig and its K-Cups. I am sure that by now almost everyone on this planet has heard of the Keurig. Millions of people have it in their homes and thousands of companies have one or more in their breakroom. Well, we offer them as well! These machines can be hooked up to the water supply in the breakroom so there will not be a need to refill the tank in the back of the machine before each use.
The OC System. This machine is just like the Keurig. Main difference are the coffee pods versus the K-cups. The coffee pods have recyclable capsules and offers three premium coffee brands and two premium tea brands. The coffee brands include Segafredo Zanetti, Chock Full o' Nuts and Kauai Coffee, and the tea brands include Harney & Sons and Brodies. This machine has custom brew sizes such as a 4oz, 6oz, 8oz, and the largest is a 10oz. Great sizes for your morning cup of coffee. This machine stands out for its advanced brew technology. This pre-infusion technology gently prepares the grounds for extraction during the pulse brewing stage, just like the way professional coffee makers work. Other single-serve coffee machines just push hot water through at a constant rate (TheOCSystem)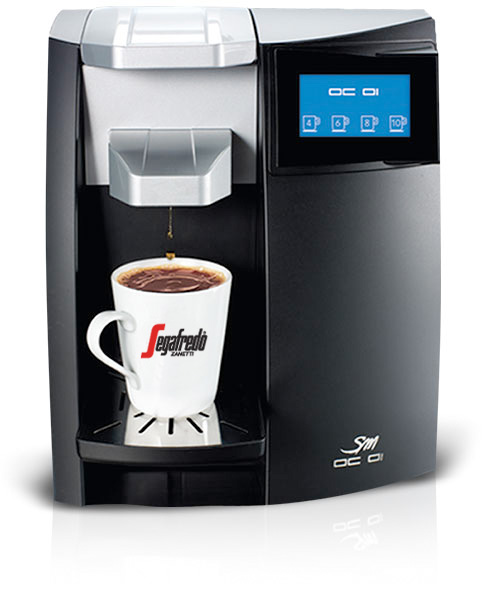 The Flavia 500. This advanced single-serve coffee machine crafts authentic coffee, tea, hot chocolate, and specialty drinks such as lattes, cappuccinos and it can do so over ice! The Flavia has many different flavors and roasts packets you can choose from to brew your ideal cup of coffee, tea, or hot chocolate with. It will brew sizes 5.4oz, 7oz, 8.3oz, and for over iced drinks, a 3oz cup (Lavassapro). The Flavia is best for larger companies and it has three language options: English, French, and Spanish. ¡Perfecto para todos los negocios!
Batch Brewers
These are the traditional batch brewers found in many offices. Models available with thermal pots and air pots to keep coffee hot and to reduce waste.
Bunn. Crickler offers many models of Bunn products that will suit any breakroom needs.
You can get a single or double brewer and they have options for heating pads to keep freshly brewed coffee hot.
Bunn: DBC Single BrewWISE®. This machine can brew 11.4 gallons of perfect coffee per hour and it can brew ½, 1 or 1-1/2 gallon batches. The BrewWISE® can store individual coffee recipes so the operator can easily brew many varieties. This machine uses pre-infusion and pulse brew to extract those coffee flavors with.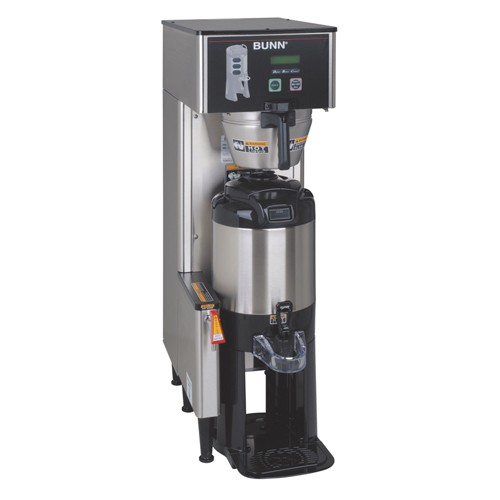 ThermoFresh® and DBC® by Bunn. Are just like the BrewWISE® brewer but differ in prices.
Contact Crickler Vending to learn more about the different brands of coffee machines we offer!