The Market of the Future is Here Today
Avenue C Micro Markets are a must-have self-checkout vending market for businesses whose busy employees need good food on-the-go. It's a great choice for clients looking to expand their food selection for their employees, but who may not be interested in or able to provide a full-service dining solution.
Convenient meal options that are fresh, fun, and healthy
Fast and secure checkout process
Accurate inventory levels
Easy worry-free restocking
Why an Avenue C Micro Market?
Open 24/7 without the need for retail staff, our markets are accessible when a quick break is needed the most. We provide an array of fresh grab-and-go options in addition to packaged snack and drink favorites. From yogurt and whole-grain oatmeal to fresh salads, deli sandwiches and soups, you can get a complete, better-for-you meal. Looking for specialty diet options? Our markets offer a variety of gluten-free, non-GMO, organic, vegan and kosher selections, allowing everyone to stay healthy while staying fueled.
The system identifies the product by barcode, and nine non bar-coded items through icons on the kiosk screen, allowing any item in the store to be paid for through the self checkout.
Multiple self-checkout payment options including cash, debit, credit, thumbprint, Avenue C bar-coded card, or through the Connect & Pay app.
Delicious, Healthful Products That Your Employees Will Love
Our self-checkout Avenue C market markets offer hundreds of products in customized retail spaces, allowing you to provide an on-site marketplace for guests to grab a snack or even a meal without having to go off-site.
We supply products that your employees and clients want including organic and more healthful options and increased product variety.
Customized to your needs
Fast and easy setup
Always stocked and maintained
With Safe Touchless Checkout
Now more than ever, a safe and secure shopping experience is important. With a variety of touchless payment options, we offer worry-free convenience to our clients and consumers.
In addition to touchless payment options, we are deploying equipment that minimizes contact with frequently-touched surfaces such as foot-pedal coolers and mobile interface coffee and vending machines, as well as signage that encourages social distancing and our commitment to safety.
Choose from your preferred payment methods
No need to carry around exact change
Fast & Secure payment processing
Sales are logged for easy restocking
Avenue C Micro Markets are the perfect break room upgrade for companies in a Variety of Industries
Our micro-markets are the perfect solution that will bring your company's break room experience to the next level. Companies in various industries rely on us to supply and maintain their staff with energizing meals that help improve the company culture and boost employee retention.
A few of the industries we service
Medical facilities
Educational Institutions
Manufacturing Companies
Hospitality
Finance
Distribution Centers
Travel Industry
Local Government
Software Development
Retail Centers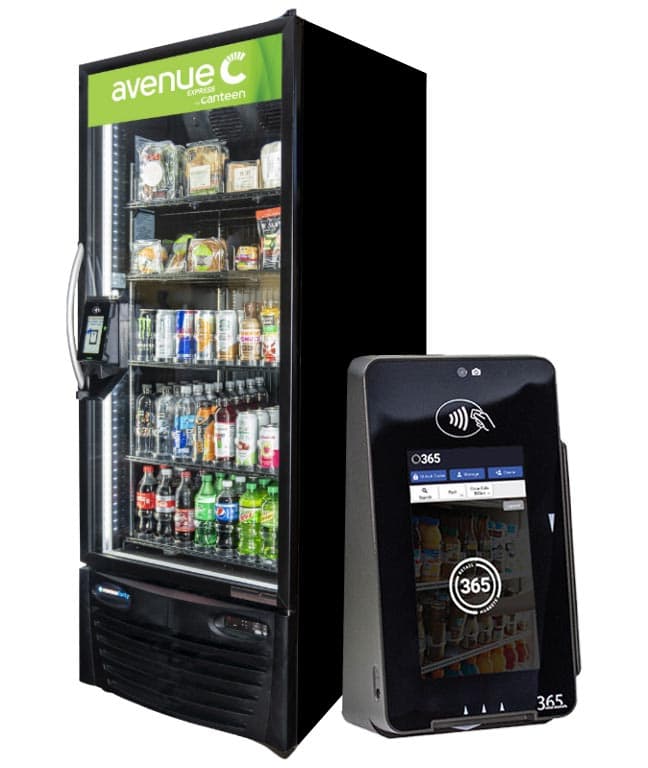 Not enough space for a small micro market? Try out our PicoCooler!
If you want to transform your break room but don't have tons of space, try out a PicoCooler. Select fresh products like salads and sandwiches in your cooler, beverages, and other snacks.
Controlled Access Cooler
Payment Versatility
Interactive Touchscreen
Controlled Access Cooler
Learn How To Use Your Micro Market
Contact Crickler today about our micro-markets and bring some pep back into the office!